28.04.2023.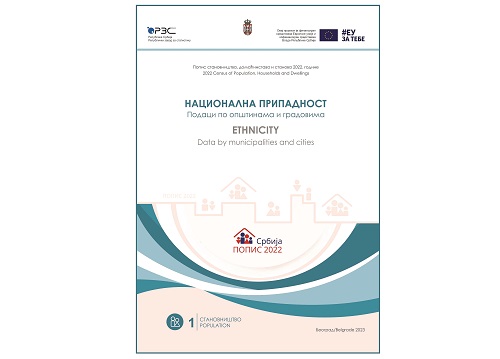 Final results - Ethnicity
Book 1 – "Ethnicity" contains the final results of the 2022 Census on the total number of inhabitants in the Republic of Serbia, by sex and response to the question on ethnicity. The book includes data for ethnic communities having more than two thousand members (by municipalities and cities), while the data on ethnic communities with less than two thousand members are available in the dissemination database.
With this book the Statistical Office of the Republic of Serbia has begun the publishing of the final results of the 2022 Census of Population, Households and Dwellings.
Population by ethnicity and sex
| | | | |
| --- | --- | --- | --- |
|   | Total | Male | Female |
| Republic of Serbia | 6647003 | 3231978 | 3415025 |
| Serbs | 5360239 | 2601446 | 2758793 |
| Аlbanians | 61687 | 30942 | 30745 |
| Bosnians | 153801 | 77555 | 76246 |
| Bulgarians | 12918 | 6984 | 5934 |
| Bunjevci    | 11104 | 5294 | 5810 |
| Vlachs | 21013 | 10572 | 10441 |
| Goranci | 7700 | 3917 | 3783 |
| Yugoslavs | 27143 | 13315 | 13828 |
| Hungarians | 184442 | 85526 | 98916 |
| Мacedonians   | 14767 | 6104 | 8663 |
| Muslims  | 13011 | 6360 | 6651 |
| Germans  | 2573 | 1288 | 1285 |
| Roma people    | 131936 | 67459 | 64477 |
| Romanians | 23044 | 10955 | 12089 |
| Russians | 10486 | 4535 | 5951 |
| Ruthenians    | 11483 | 5622 | 5861 |
| Slovaks | 41730 | 19593 | 22137 |
| Slovenians | 2829 | 1245 | 1584 |
| Ukrainians | 3969 | 1567 | 2402 |
| Croats    | 39107 | 16251 | 22856 |
| Montenegrins | 20238 | 10851 | 9387 |
| Оther | 21643 | 11435 | 10208 |
| Regional affiliation | 11929 | 5836 | 6093 |
| Did not declare | 136198 | 62345 | 73853 |
| Unknown | 322013 | 164981 | 157032 |
Book 1 Ethnicity (municipalities and cities)